Days to COVID Vaccine Part 2: 14 Days
Exercise: None
Piano Song of the day: No Piano today
---
And for the next Photo that was framed, we are back in Cardiff Bay. Home of the Welsh Assembly (or Parliament) or in Welsh: Senedd Cymru. Also home of Torchwood - if you watched that and if you did you may recognized these buildings, although obscured from the photo is Torchwood Tower.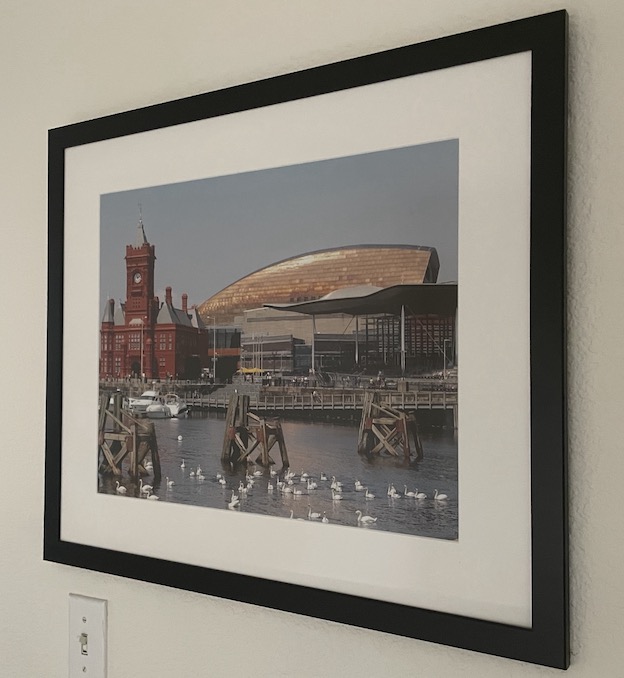 The picture was taken on in June 2016 when we went for a walk around Cardiff Bay, or at least as far as the Barrage - which is a big lock to let boats in and out of the bay. The bay used to be tidal but as the tide goes way out on the River Severn it became problematic and the reverse could occur with flooding, so now there are lock gates to control the flow of water in and out of the bay, keeping it a roughly the same height above sea level.
Featured in the photo on the right is the Welsh Assembly, effectively the parliament of Wales, it being one of the countries that make up the UK along with England, Scotland and Northern Ireland. All the grey rock that you see is Welsh Slate - which used to be used for roofs and is now commonly used for slate floors.
To the left is the Pierhead Building, built in 1897 for the Bute Dock Company. Behind everything is the Millenium Center of the Arts with its Copper Oxide Steel roof. Apparently using copper oxide instead of actual copper meant it retains it's luster instead of turning green like the copper roofs I saw in Copenhagen. Home of the Welsh Opera, Symphony Orchestra and a great venue for performances of all types.
Off to the right out of site is the Norwegian Church - where the writer Roald Dahl was baptised. He was born in Cardiff. Off to the left - also out of site - is Ianto's Shrine.
Finally in front are of course Swans. It is said that all the Swans in England are owned by the Queen. I think this is partially true, whether she has any ownership over the swans in Wales I don't know.
The frame photo hangs in the landing between our bedroom and our offices. It is the first of my photos to go on display and you can't go anywhere without passing it, and being reminded of Wales.
---
---
Canon T5i: ISO 100 | 50mm | 1/200s @ ƒ8